Beatles history
| Category | Description | Link |
| --- | --- | --- |
| Year by Year | One or several years on a page. History includes interviews, album links. | |
| Month by Month | One month on a page. History includes pictures, interviews, album links. | |
| Day by Day | See what happend on a specific day and month in different years. History includes pictures, interviews, album links. | |
Today in Beatles history
1934 - Brian Epstein is born in a private nursery house, 4 Rodney Street, Liverpool.
1956 - Brian has a private test with John Fernald, the Director, and is admitted to the Royal Academy of Dramatic Art in London.
1959 - The Quarry Men perform at the Casbah Coffee Club in West Derby, Liverpool.
1961 - Lunch time: Performance at the Cavern.
1964 - Brian celebrates his 30th birthday on a plane over Houston, Texas.
1964 - The Beatles spend the week end at millionaire Reed Pigman's farm in Alton, Missouri.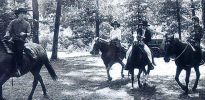 1964 - `A Hard Day's Night' LP number 1, 9th week (UK Record Retailer chart).
1964 - John gives his permission for his drawing `The Fat Budgie' to be printed on Christmas cards.
1966 - Presentation of prizes of `Melody Maker'. The Beatles have been voted winners on British & International Sections in the 1966 Poll. Ringo and Paul attend.
1968 - Studios 1, 2. 7.15pm-5.30am. Recording: `Piggies' (takes 1-11). Producer: Chris Thomas; Engineer: Ken Scott; 2nd Engineer: Mike Sheady.
1968 - BBC-TV's `Top Of The Pops' broadcasts a documentary about the recording of `Revolution' (Thursday, 19:30-20:00), the one and only British television transmission of a 'Revolution' promotional clip.
1969 - ATV obtains the 50 % of the shares of Northern Songs Ltd.
Help needed
If you have any questions, suggestions or events that aren't in this database please feel free to post. Your help is very appreciated!