Welcome!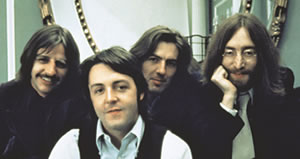 Please use left menu to navigate through the site in order to access:
- Comprehensive UK and US discographies with album covers, additional information, reviews and comments.
- Complete song index with the lyrics. Different takes, demo and live versions, unreleased songs and songs for others.
- Detailed history day by day, with pictures, links to albums, interviews.
- More than thousand pictures of the Beatles, people close to them, magazine covers.
- Various information on the Beatles, their films, interviews, concerts, bootlegs.
- Popular discussion forum where you can meet Beatles fans from all over the World.
Today in Beatles history
1969, July 31 - Mal Evans takes the tape containing the `Abbey Road' medley compiled on 30 July to Apple for acetate cutting purposes. He returns the tape this same day to EMI. Malcom Davies, at Apple, cuts a lacquer of the complete medley sequence. On his own he decides to include the `Her Majesty' piece, although it had been placed detached from the main sequence to make it clear it was not intended to be part of the medley.
Beatles news
2015, July 18 - 36 Beatles news updates
2015, July 18 - 18 Paul McCartney news updates
2015, July 18 - 19 John Lennon news update
2015, July 18 - 6 Ringo Starr news updates
2015, July 18 - 4 George Harrison news updates
2015, June 17 - Lost TOTP appearance emerges
2015, June 14 - 13 Beatles news updates part 2
2015, June 14 - 25 Beatles news updates part 1
2015, June 14 - 22 Paul McCartney news updates
2015, June 14 - 13 John Lennon news updates

Random links from links section and advertisements

- Sir George Martin
- Buy The Beatles Comlete Scores
- Jesse's Beatles 45's & Memorabilia - contains details and pictures of the site author's private collection of Beatles and solo 45s, picture sleeves, and memorabilia. Also contains details of various record labels The Beatles appeared on, a U.S. discography, Billboard chart information, lyrics, and more
- Magical Mystery Tour Memories! - Wienerworld, the UK's leading independent DVD label, is proud to be distributing The Beatles - Magical Mystery Tour Memories! The DVD is out now in the UK and Europe at £12.99, including postage and packing, delivered to your door
- DM's Discographies, Lyrics and Album reviews - various artists and bands discographies, lyrics, album reviews, song ratings, links, including John Lennon, Paul McCartney and George Harrison. Music history album by album, year by year

Site statistics
Unique visitors in July: 93883; since November 2004: 11137813; during 4 years since Nov. 2000 until Nov. 2004: 175000