Welcome!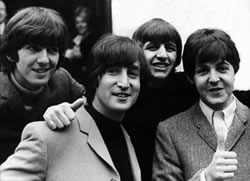 Please use left menu to navigate through the site in order to access:
- Comprehensive UK and US discographies with album covers, additional information, reviews and comments.
- Complete song index with the lyrics. Different takes, demo and live versions, unreleased songs and songs for others.
- Detailed history day by day, with pictures, links to albums, interviews.
- More than thousand pictures of the Beatles, people close to them, magazine covers.
- Various information on the Beatles, their films, interviews, concerts, bootlegs.
- Popular discussion forum where you can meet Beatles fans from all over the World.
Today in Beatles history
1964, February 22 - Informal ceremony, at the NEMS Moorfields office. Brian celebrates Cilla Black's number 1 presenting her with a gold bracelet watch stuffed with diamond chippings. When Cilla returns home, she discovers that Brian has sent her mother the biggest bunch of flowers she has ever seen.
Beatles news
2017, February 18 - Beatles news updates
2017, February 18 - John Lennon news updates
2017, February 18 - Paul McCartney news updates
2017, February 18 - George Harrison news updates
2017, February 18 - Ringo Starr news updates
2017, January 22 - Beatles news part 1
2017, January 22 - Beatles news part 2
2017, January 22 - John Lennon news updates
2017, January 22 - Paul McCartney news updates
2017, January 22 - George Harrison news updates

Random links from links section and advertisements

- Buy The Beatles Anthology Book
- Magical Mystery Tour Memories! - Wienerworld, the UK's leading independent DVD label, is proud to be distributing The Beatles - Magical Mystery Tour Memories! The DVD is out now in the UK and Europe at £12.99, including postage and packing, delivered to your door
- BeatleMix - tune-in BeatleMix Radio, a live 24 hour broadcast of all Beatles, all the time! Hear all of your favorite songs by the Fab 4, both as a group and solo
- BootlegZone - one of the biggest Beatleg database on the web, featuring high quality scans, cross-referenced tracklistings and songs versions, etc. Also allows you to post reviews of bootlegs, post trade ads, manage your bootleg collection and send tracklistings online
- The Official Brian Epstein Web Site

Site statistics
Unique visitors in February: 80103; since November 2004: 14200098; during 4 years since Nov. 2000 until Nov. 2004: 175000