Welcome!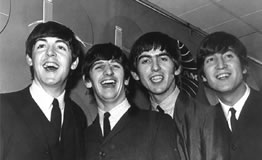 Please use left menu to navigate through the site in order to access:
- Comprehensive UK and US discographies with album covers, additional information, reviews and comments.
- Complete song index with the lyrics. Different takes, demo and live versions, unreleased songs and songs for others.
- Detailed history day by day, with pictures, links to albums, interviews.
- More than thousand pictures of the Beatles, people close to them, magazine covers.
- Various information on the Beatles, their films, interviews, concerts, bootlegs.
- Popular discussion forum where you can meet Beatles fans from all over the World.
Today in Beatles history
1967, June 25 - `Our World' is broadcast. Premiere of `All You Need Is Love'. Studio 1. 2.00pm-1.00am. Recording: `All You Need Is Love' (takes 48-50; BBC rehearsal takes 1-3; takes 51-53; takes 54-58 (58 being live BBC broadcast); overdub onto take 58). Producer: George Martin; Engineer: Geoff Emerick; 2nd Engineer: Richard Lush/Martin Benge. Recording of snare drum roll and re-done John vocal for `All You Need Is Love'. Visits at the studio: Mick Jagger, Marianne Faithfull, Keith Richard, Keith Moon, Eric Clapton, Pattie Harrison, Jane Asher, Mike McCartney, Graham Nash and wife, Gary Leeds, Hunter Davies.






Beatles news
2016, May 30 - Beatles news updates
2016, May 30 - John Lennon news updates
2016, May 30 - Paul McCartney news updates
2016, May 30 - Ringo Starr news updates
2016, May 30 - George Harrison news updates
2016, May 21 - Beatles news updates
2016, May 21 - Paul McCartney news updates
2016, May 21 - John Lennon news updates
2016, May 21 - George Harrison news updates
2016, May 21 - Ringo Starr news updates

Random links from links section and advertisements

- Buy The Beatles Anthology Book
- A Beatles Index - Beatles dates collection, discography, songs list, news, etc.
- BeatleMix - tune-in BeatleMix Radio, a live 24 hour broadcast of all Beatles, all the time! Hear all of your favorite songs by the Fab 4, both as a group and solo
- Mitch McGeary's Songs, Pictures and Stories of the Beatles - rare Beatles materials
- Magical Mystery Tour Memories! - Wienerworld, the UK's leading independent DVD label, is proud to be distributing The Beatles - Magical Mystery Tour Memories! The DVD is out now in the UK and Europe at £12.99, including postage and packing, delivered to your door

Site statistics
Unique visitors in June: 114447; since November 2004: 12309239; during 4 years since Nov. 2000 until Nov. 2004: 175000